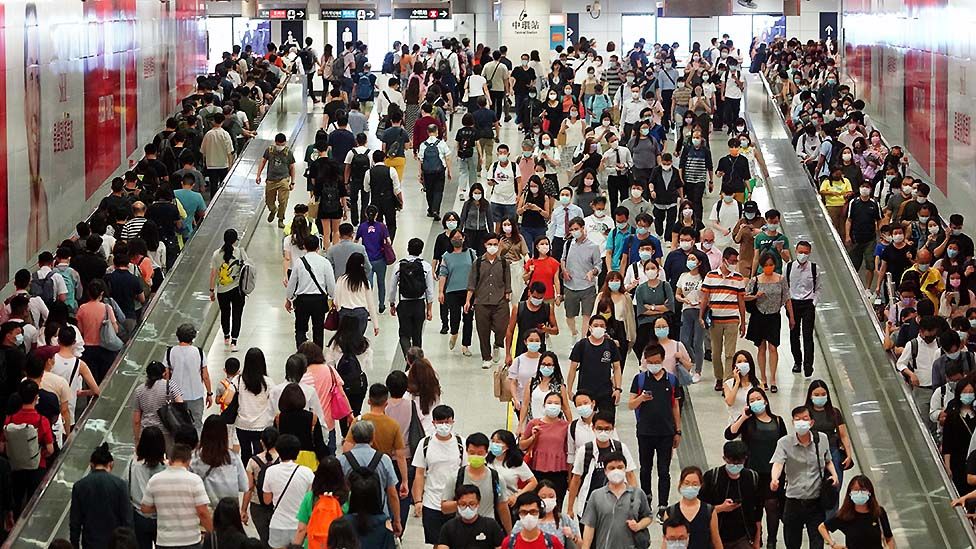 IMAGE SOURCE,

GETTY IMAGES
Image caption,
Rival financial hub Singapore has opened quarantine-free travel to 11 countries while Hong Kong's system is getting tougher
Last week, Hong Kong doubled down on its Covid-19 restrictions - already among the strictest in the world. The news has led to dismay among the city's vibrant business community, with some questioning if this threatens its status as Asia's financial hub.
The city's leader, Carrie Lam, announced that almost all exemptions from quarantine for overseas and mainland travellers would now end.
She said this was to speed up China reopening to the region, but for some businesses, it's pushing them over the edge. Ms Lam has previously said that opening to mainland China is "more important" than [opening up] elsewhere.
Hong Kong has one of the strictest mandatory quarantine regimes of any jurisdiction, with most arrivals having to undergo between 14 and 21 days of hotel quarantine.
There have been a few exemptions. Diplomats, business leaders and some mainlanders with Hong Kong resident cards have been able to skip quarantine, or isolate at home. But not any more.
"We are caught in a sort of dilemma because in order to resume some quarantine-free travel with the mainland we have to ensure our anti-Covid 19 practices are more in line with the mainland practices," Ms Lam told reporters on Tuesday.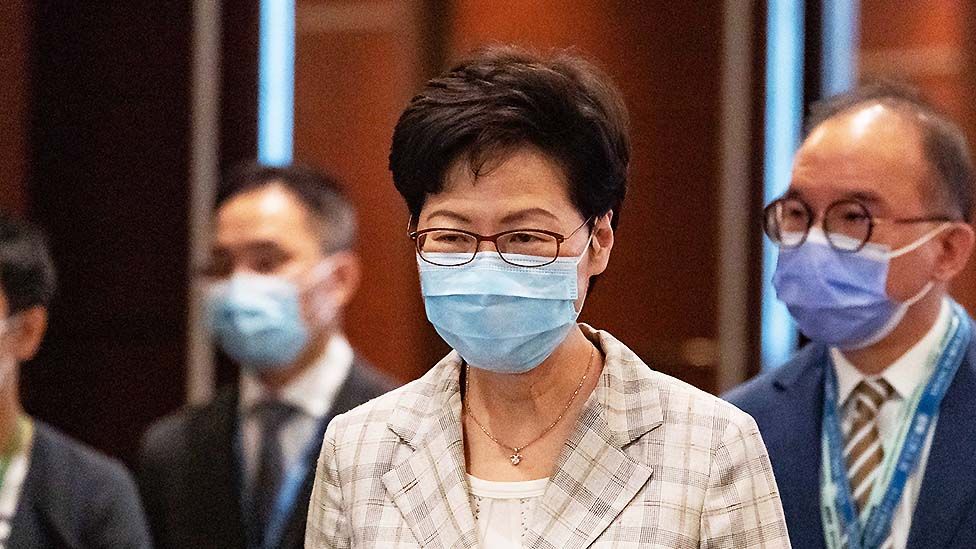 IMAGE SOURCE,

GETTY IMAGES
Image caption,
Hong Kong Chief Executive Carrie Lam reiterated earlier this week that the opening of the border with the Chinese mainland is the priority of her government
The news has been met with dismay by Hong Kong's business community, who have already felt the strain of more than 18 months of closed borders.
"It has a big impact in a wide variety of directions," president of the American Chamber of Commerce in Hong Kong, Tara Joseph, tells the BBC.
"First, business sentiment about not being able to freely move about the world - which is crucial if you're an international business.
"Secondly, the personal impact of being away from family and important personal contacts.
"And last but not least, it has a huge impact on the talent pipeline for Hong Kong which means its domination as Asia's hub could lessen over time. We have no pipeline anymore, that's really worrying."
Frederik Gollob, Chairman of the European Chamber of Commerce agrees: "It certainly won't enhance confidence in Hong Kong to do business from an international business perspective."
Business confidence in the city has already been hit in recent years, thanks to widespread pro-democracy protests, as well as the imposition of the controversial National Security Law which mandates harsh prison terms and can also impact foreigners.
Ms Joseph adds it's not clear if restrictions are causing the city brain drain just yet - primarily because this trend takes some time to emerge. "There is definitely a sense that people are considering, or thinking about leaving - and it's not just one organisation that's saying that," she says.
"When it comes to brain drain, people have this simple idea that you just pick up and go. But if you're a business executive, it's not that easy," she explains, mentioning challenges such as incomplete business projects, leases on homes and children enrolled in local schools.
Asia's largest financial lobby group, which represents the interests of 155 financial institutions, including Goldman Sachs and BlackRock, warned the government last week of the impact of its "highly restrictive" border policies.
In an unprecedented open letter to Hong Kong's financial secretary Paul Chan, the Asia Securities Industry and Financial Markets Association (Asifma) writes: "We fear that if Hong Kong does not develop, and communicate, a clear and meaningful exit strategy from the current zero-case approach, as is the case in many other jurisdictions, Hong Kong risks losing its vital international status.""The government must do its utmost to foster informed dialogue and full consideration of the long-term risks to livelihoods if its borders remain effectively closed, in contrast to competing international financial and business centres."
The Asifma declined the BBC's request for an interview.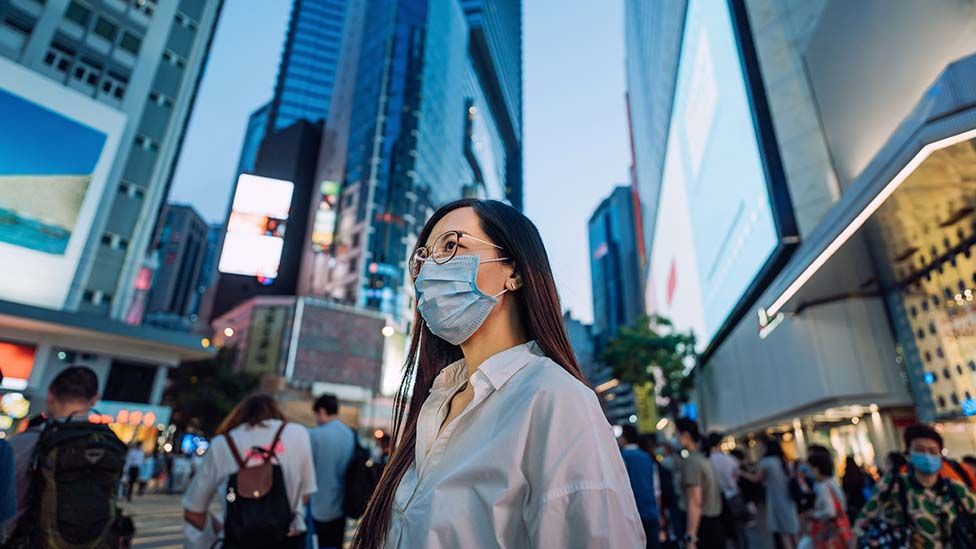 IMAGE SOURCE,

GETTY IMAGES
Image caption,
Business confidence in the city has taken several hits after Covid and the imposition of the controversial National Security Law
Other nations abandon zero-Covid19 approach
The association's request for an exit plan comes as other countries in the region shift from a zero-Covid strategy - meaning a policy to bring cases down to zero - to instead living with the virus, with many nations reopening their borders.
Rival financial hub, Singapore, for instance, is opening quarantine-free travel to 11 countries, including; Germany, Brunei, the US and UK, as part of its "vaccinated travel lane" policy. While Australia allowed vaccinated citizens and residents to re-enter without quarantine from Monday.
New Zealand, Thailand and the Indonesian island of Bali, have also all made moves to reopen borders in recent weeks.
As for Hong Kong, EuroCham's Mr Gollob says it's "crystal clear that the China border comes first."
"We have to respect that. Obviously this is a big burden for the European and international business community in Hong Kong.
"But the silver lining is that members of ours, who have a vested interest in the mainland, will be able to take advantage of it.
Mr Gollob says the strength of the wording of Asifma's letter was unexpected:
"It was a surprise to us that even the financial institutions need to be heard publicly" he says. "What we hear from our community is even echoed by the strongest institutions, which are the banks. That should be a very strong signal to the HK government."